How far would you go for love when all you love is DEAD?

Six months after the Necro Rabies pandemic has turned the world into hordes of rabid undead known as "Cujos," 21 year-old Rhonda Driscoll discovers her zombified fiancé, Brad, in her old hometown.

Fearing that her Marine Colonel father will kill undead Brad, Rhonda flees, taking a road-trip with Brad in tow in hopes of starting a new life in a frightening and uncertain world complicated by numerous perils, pure horror, joy, heartbreak, and unconditional love.
Deep beneath the Egyptian sands, an ancient and evil song written in hieroglyphics is discovered in the long lost and buried pyramid of the demonic pharaoh, Aknaseth.
It is written, that if this song is performed for the world to hear, it will unleash the Apocalypse upon the world of man...Satan will reign and grant immortality to the chosen.
With the help of abominable Egyptologist, Helmut Hartkopff, nihilistic multibillionaire, Festus Baustone the Third will do whatever it takes to bring the song to life at any cost- even if his only daughter is to be sacrificed.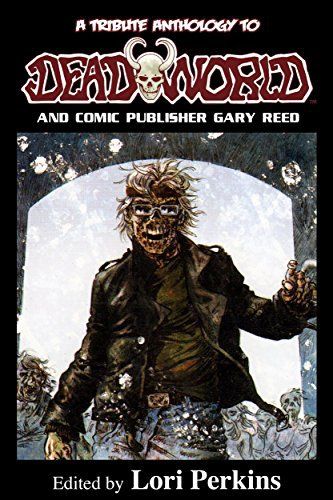 Deadworld is a graphic novel series that started in 1986 (and continues till this day) that follows survivors in a post-apocalyptic world brought on by zombie attacks led by the King Zombie, an intelligent zombie.
The Deadworld universe has so much more to offer than just humans slaughtering zombies.

this Tribute to Deadworld and gary reed features stories, Insights, and articles by Kevin VanHook, Thomas Monteleone, Jason Henderson, Andrew Robertson, Jennifer Williams, Ken Haigh, Sarah Stegall, Jamie K. Schmidt, George Ivanoff and Jeremy Wagner.
Romance ain't dead...it's undead.
In this thrilling zombie anthology, horror fans will finally get their fill of zombie-on-zombie action, zombie-human love, and zombie smut. Because why should vampires have all the fun?
This collection includes never-before-published short stories by some of today's most captivating and inventive horror authors.
A wonderfully twisted undertaking , Hungry for Your Love is a many-faceted feast of love, loss, sex, heartbreak, rotting flesh, and romance from beyond the grave
FANG BANGERS collects 14 hot and twisted stories of fanged and clawed love and lust - Vampires loving shape-shifters, werewolves lusting for fairies and every creature imaginable with the girl next door!
It's a collection of the ultimate taboos.
Erotic super star Cecilia Tan gives us some Vampire BDSM, New York Times best-selling author Lois Gresh gives us a clawed creature of unique proportions and propensities, and Gina McQueen (New York Times best-selling author John Skipp in drag) shows us some new werewolf tricks THat will make your jaw drop!
Slices Of Flesh:
A Collection of Flash Fiction Tales from the World's Greatest Horror Writers
Do you like your horror in small bite-sized chunks? If so, then SLICES OF FLESH from Dark Moon Books will activate your taste buds like zombies drawn to fresh brains.
These flash fiction stories oozed from the brains of some of the best horror writers from around the world and will fit perfectly into your daily diet of "scary." SLICES OF FLESH includes 90 short horror tales from the world's greatest horror writers.